Tropical Fiesta
Berlin is warming up! Yahoo! Today it's a bit clowdy but we had four days of sun this week which were so nice. Naturally with the sun comes tropical themed parties. Last night my friend Clemens and I hosted a party for the other students in our program. We danced all night to Regetton and Salsa. It was great. You will see some of the photos below.
On a more academic note, I just finished my third week of school. So far so good. My study load really varies from week to week. Two weeks ago there was a lot of review so I got to slack a bit but this weekend I need to pick up the pace a bit. Boring school details...
Life is great. I am meeting really nice friends and my German is coming along slowly but surely. I would like to be able to dedicate more time to learning the language, but studying for my masters courses usually take priority. So, that's me in a nutshell. Enjoy the pictures...
Party food with my buddy Clemens who has been staying with me for a couple weeks.
Some buddies from my program.
Yahoo for margaritas...and looking at the camera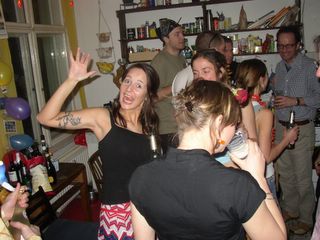 Little apartment + lots of people = good times
A view from my balcony...You will notice I need to do some major gardening.